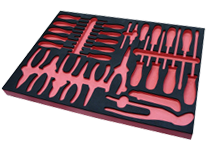 Our company deal with production of the inserts made from EVA foam by
customer requirements. Inserts are processed at NC machines so unlike the laser or water beam (which cut whole material) there is no problem with different depth of opening for objects. All objects are idealy placed aesthetically and also safe and practically.
---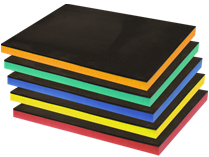 Customers can choose viaried size and colour combinations of materials. Inserts are made of
polyethylene foam (EVA - Ethylene Vinyl Acetate) that has very good mechanical properities, especially flexibility and strenght. Foam has good weather and chemical resistance, low water absorption, oil resistance and high energy absorption.
---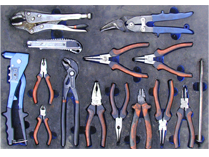 Thanks to this properties object placed in insert fit very well also after long-term use. This is important especially during transport and also for everyday use. Inserts considerably reduce risk of damage of transported objects.
---

Advantages of inserts are also transparent layout of object and thanks to standard black/contrast colour combination easy survey of missing parts. No more lost parts and long finding, everything is at right place. Foam inserts looks very professional and this solution will provide to your products exclusive look and high quality image.
---